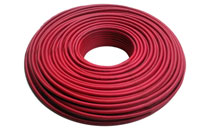 We at Viral Electronics manufacture PVC Insulated Battery Cables used for Battery Charging units in battery industries, in automobiles , railways, Traction forklift Charger, Solar Batteries. We manufacture cables from 4 sq.mm to 240 sq.mm.
PVC Feature
Oil & Acid resistance, Shock absorption, Ergonomic comfort, Soft texture.
Specifications
Conductors : The conductors shall be composed of plain annealed high conductivity copper wires complying with IS 8130:1984.
Flexibility : Class 5 Type as per IS 8130:1984
Temperature : Withstands Max 105 Deg Celsius.
Covering : The general service normal duty pvc compound shall confirm to the requirements of IS 5831 (1984).
Current Rating of General Service Normal Duty PVC Compound Covered Cable with Copper Conductor
Nominal Cross-Sectional Area of Conductor
FLEXIBLE COPPER CONDUCTORS FOR SINGLE-CORE AND CABLES, CLASS 5
MAXIMUMDIAMETES OF % kW.S IN CONDUCTOR
MAXIMUM RESISTANCE OF CONDUCTOR @ 20° C 85 % Duty Cycle
Sq mm2
mm
Ohm/km
4
0.3
4.95
6
0.3
3.3
10
0.41
1.91
16
0.41
1.21
25
0.41
0.78
35
0.41
0.554
50
0.41
0.386
70
0.51
0.272
95
0.51
0.206
120
0.51
0.161
150
0.51
0.129
185
0.51
0.106
240
0.51
0.08